History In (Virtual) Motion
Fakes, Forgeries and Frauds
Thursday, January 28, 2021
7:30PM
$25 presentation only
To order Nancy Moses'  book, Fakes, Forgeries and Frauds, see attached form.
To order from Seedling and Sage, see attached form.
Sponsor the event!
Details in regards to becoming a sponsor of the event are available here.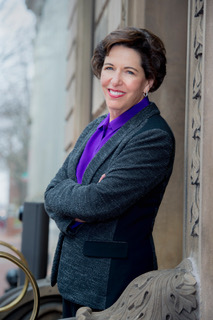 The Springfield Township Historical Society will present its annual History in Motion program, this year featuring guest speaker Nancy Moses, author of Fakes, Forgeries and Frauds, published earlier this year by the Rowman & Littlefield Publishing Group.
Moses, who is chairperson of the Pennsylvania Historical and Museum Commission, will discuss how cities could be considered "fake" if they have been rebuilt and provide the framework for what the historical society does for preservation and what the preservation community does in the face of economic development and the tearing down of houses and how visual integrity can be preserved.
Moses, who lives in Philadelphia, has a consulting firm, Nancy Moses Planning & Development, which produces strategic, fundraising marketing, and feasibility studies that help nonprofits and government chances of success. A former visiting scholar at the American University in Rome, she is a former director of the Atwater Kent Museum, and has held senior position at the National Endowment for the Humanities, University of Pennsylvania Fels School of Government. In addition to Fakes, Forgeries and Frauds, she is the author of Lost in the Museum: Buried Treasures and the Stories They Tell, (2008) and Stolen, Smuggled, Sold: on the Hunt for Cultural Treasures (2015).
Tickets are available on the Eventbrite website for the History in Motion event. Tickets are $50 if guests buy the book using a coupon provided by the publisher, and are $25 if they do not want to buy the book.
Seedling and Sage, an area business, is offering guests to this event an opportunity to buy oven ready meals, artisan cocktails and Valentine-themed hot chocolate bombs. Orders must be made online by January 21 and guests will pick up their orders by curbside pick-up at Flourtown Country Club on Thursday afternoon, January 28 between 2:30PM-5:30PM. 10% of your order will be donated back to the Springfield Township Historical Society. More information can be found here. 
Sponsors are welcome. Details regarding sponsorship levels and benefits are available by clicking on the attached form, or contacting the Historical Society.
Please contact the Society for information regarding event registration,  purchasing the book, or becoming a sponsor of this event. However, please be patient if it takes some time to receive a response; we are still working remotely due to the COVID-19 pandemic.
A very special thank you to our sponsors.
You may obtain the official registration and financial information of the Springfield Township Historical Society from the Pennsylvania Department of State by calling toll-free within Pennsylvania 1-800-732-0999. Registration does not imply endorsement.